Case Study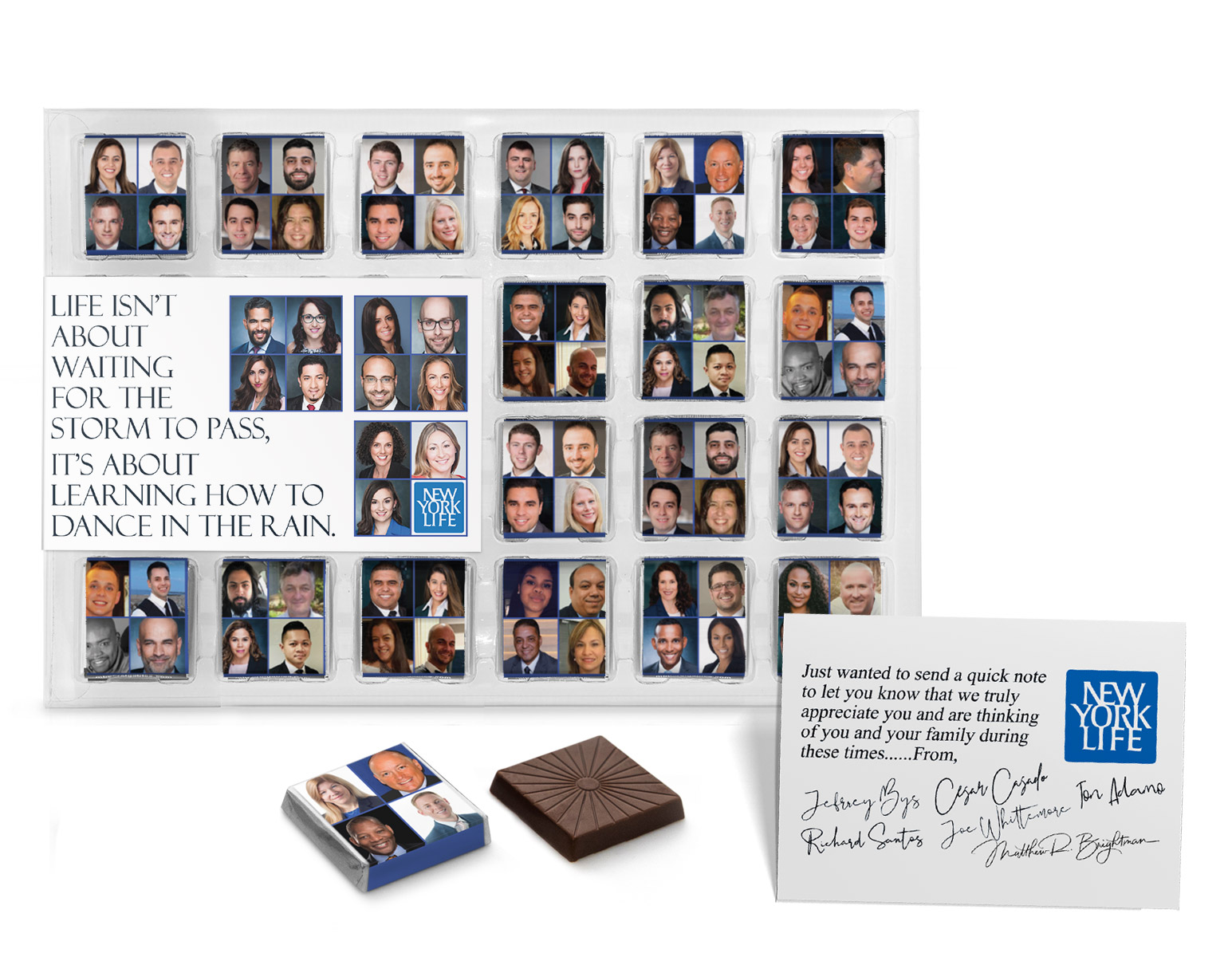 Client: New York Life Insurance Company
Silence, separation, and worries had replaced the hustle and bustle of the typical workspace. Covid-19 had sent the office staff home to work remotely. Employees were lacking morale, and the employer was looking for a way to remind the team that they are in this together. Seeking a way to send some motivation directly to the employees´ homes, the company reached out looking for the ideal product. This needed to be a product that was as personal as possible.
A popular quote says, "A picture is worth a thousand words."
Setting out to bring the company's vision to life, we worked to design the ideal product that combined the sweetness of chocolate with the warm smiles of the client's board. Our team got right to work! After more discussion, using a 48-piece square chocolate set seemed ideal to house all the company's board members´ pictures. Each square contained a perfectly sized Belgian dark and milk chocolate square that provided the perfect pick-me-up treat amidst a potentially otherwise bland day. With 48 savory treats, this set was suitable for treating the employees for many days to come. To make the product even more personalized, the custom-printed label that wraps around one side of the set offered additional space for the customer´s message. A custom-printed greeting card with company supplied artwork was also included to make the gift even more customized.
After creating the personalized treat for our client, we drop-shipped one set directly to each one of the company's employees. All sets were produced and shipped within 5 business days.
And, how did it go over? Our client shared that many employees sent heartfelt emails expressing how the surprise brightened their days. Some recipients talked about how hard it was to work from home and how it had boosted their day and reminded them that even amidst separation there was unity.
That warm feeling or smile that inadvertently crossed your face is why we do what we do. We love to match an organization´s motive with a product we create. Have an upcoming digital conference? Training session? Employee-appreciation event? Talk to us about how to make this event one to remember!