Chocomize specializes in crafting and supplying companies with high-quality, edible corporate gifts. From treats made of the finest Belgian chocolate to gourmet popcorn and customized candies, Chocomize offers top-of-the-line gifts that are suitable for all budgets and occasions. Whether intended as tools for promotional purposes, customer appreciation events or trade shows; Chocomize supplies companies of all sizes with gifts that make unforgettable impressions.
Industry: Healthcare
Problem: Dentists and orthodontists are well known for handing out customized toothbrushes and flavored flosses to their patients as promotional gifts. While these gifts are relevant, they fail to make a lasting impression.
Solution: One orthodontist decided to break free of these traditional gifts. Many of his patients excitedly announced that they would celebrate the removal of their braces by eating chewy foods that have been off-limits for years. He contacted Chocomize and ordered custom one-gallon gourmet popcorn tins to give each of his patients after removing their braces.
The Result: The orthodontist connects with his patients on a deeper level by providing this non-traditional and memorable gift. He has received many new patients through referrals from these satisfied customers.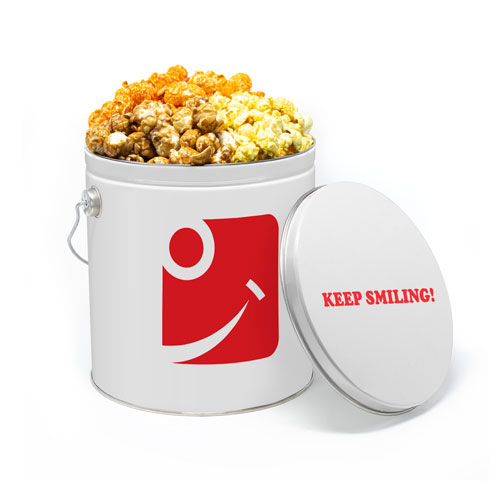 Problem: Pharmaceutical trade shows are filled with vendors who are advertising a number of different brands, and it is difficult to find a way to stand out in the crowd.
Solution: A Pharmaceutical Representative orders small-sized candy pill bottles from Chocomize featuring the logo of the brand she is representing and filled with refreshing mints. She hands the fun and brightly colored treats out along with pamphlets that contain more information.
The Result: Her booth became a hot spot at the trade show, and she was able to make several valuable connections while sharing information. After the trade show, she continued to receive inquiries from the people who had received the candy pill bottles.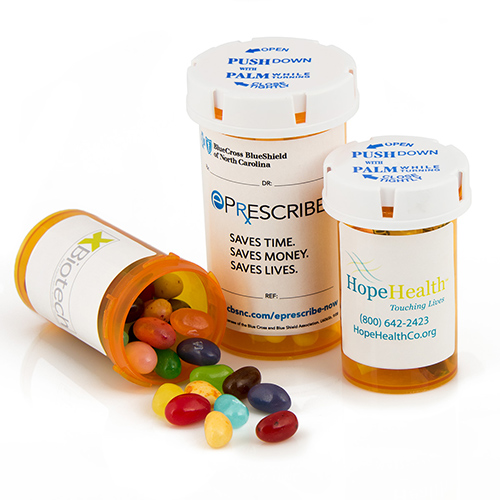 Industry: Automotive
Problem: Cadillac is a well-known brand in the automotive industry, but they want to take a unique and active approach to marketing their products to new customers. They need a gift that is universally appreciated and will entice these customers to provide their contact information so that they can remain in contact with them after events.
Solution: Cadillac sets up tables at events where potential customers are able to create their own custom chocolate bars through Chocomize. Potential customers provide their contact information so that their custom chocolate can be delivered.
The Result: With accurate contact information, Cadillac can remain in touch with these individuals. When they receive their custom chocolate bars through Chocomize a few days after the event, they arrive in a custom Cadillac gift box which includes brochures and special offers for Cadillac's newest products. This increases the level of interest while showing appreciation.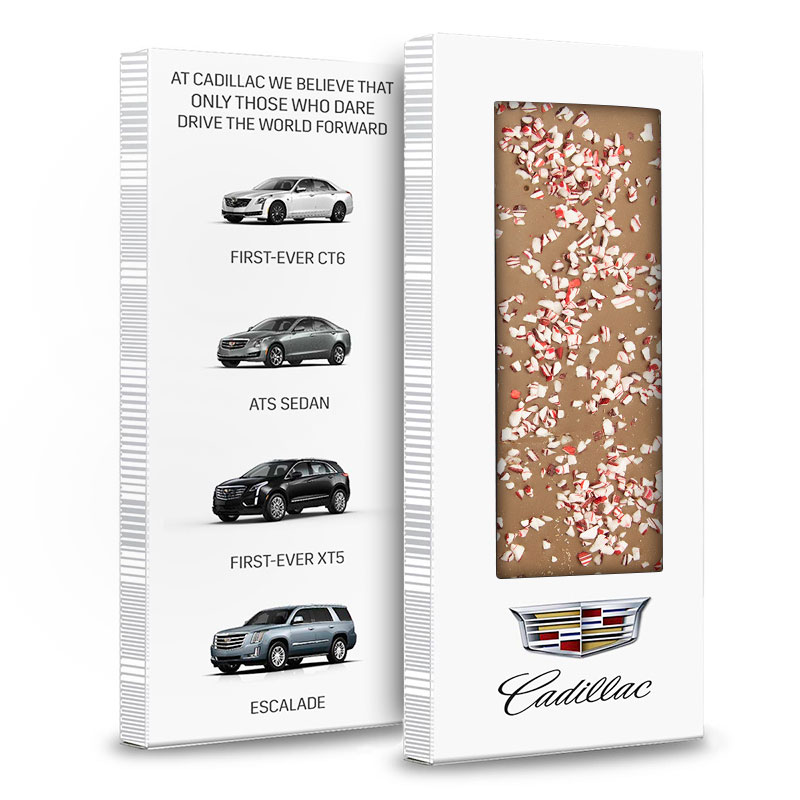 Problem: Mercedes is a luxury brand and they want to show their appreciation to new owners. They need a gift that is high quality and appeals to an array of tastes.
Solution: Mercedes orders 9-piece Chocolate Squares Gift Boxes from Chocomize to present to new car owners. The fine chocolate is a nice way to thank buyers for their purchase and show the company's appreciation.
The Result: New car owners enjoy the personalized gift and feel confident that they have made the right decision in purchasing their Mercedes vehicle. They are more likely to remain loyal to the brand as they feel that they have had a personal and more intimate experience than they would have had at other dealerships.
Chocomize aims to create and supply businesses in many industries with A-grade corporate gifts that highlight both the brand and the product. The customization options offered by Chocomize allows each customer to directly target their audience to ensure that a long-lasting impression has been made.